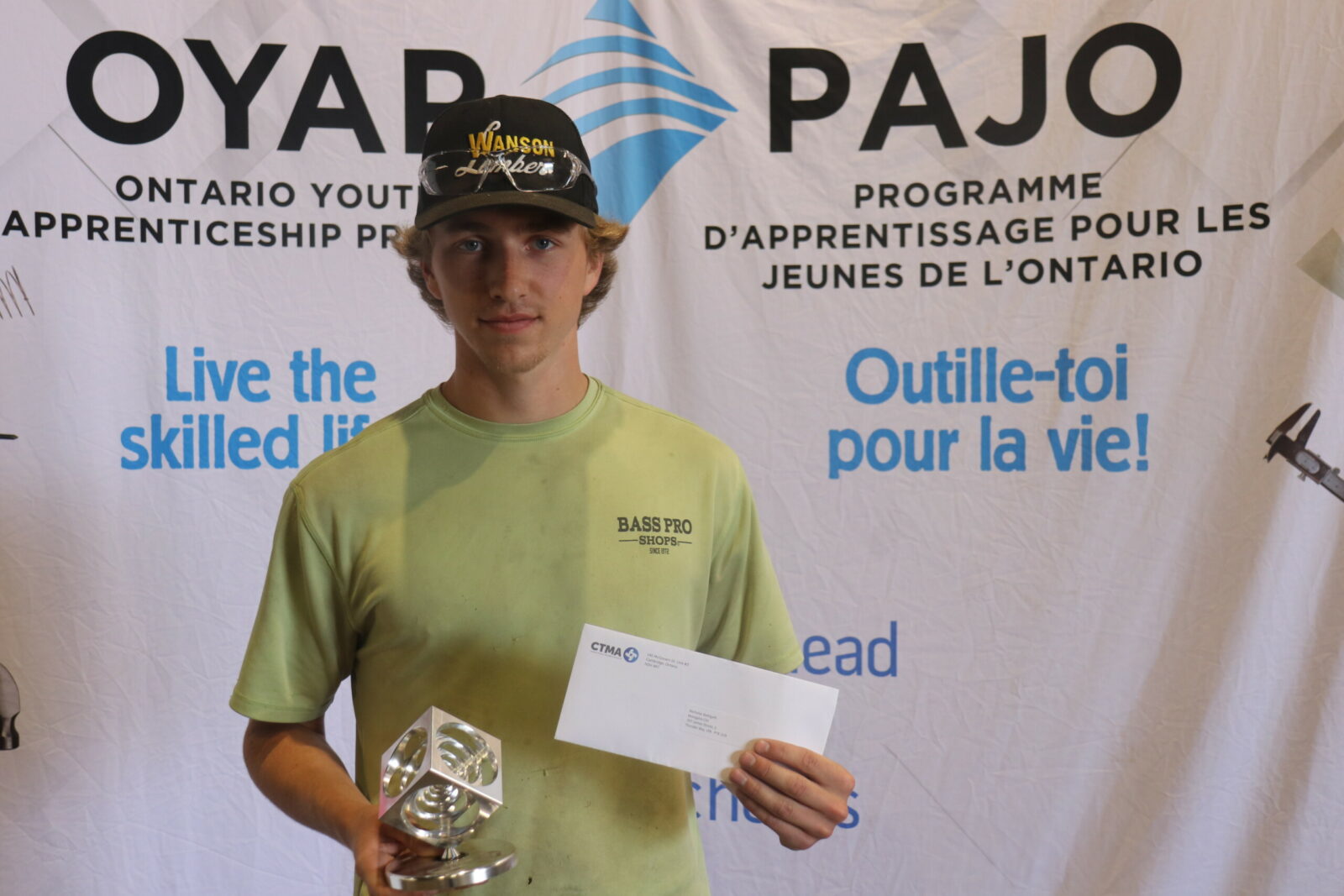 Student Wins Bursary for Skills Obtained in Specialist High Skills Major Program
Jun 19, 2023
Graduating student Nicholas Battigelli was presented with a $1,000 Canadian Tooling and Machining Association High School Bursary today for having demonstrated high proficiency in metalworking skills obtained at Westgate CVI in the Specialist High Skills Major program. He received the bursary at his part-time place of employment, Thunder Bay Hydraulics.
Since fall of 2021, the Canadian Tooling and Machining Association (CTMA) and the Ontario Council for Technology Education have funded Westgate CVI, Superior CVI, and Hammarskjold High School with $230,000 to purchase new high-tech machine equipment and upscale the manufacturing technology programs. As a result, Specialist High Skills Major program students at Lakehead Public Schools are able to become proficient at Computer Numeric Control equipment and other precision machining equipment that would typically not be found in a high school setting but that is common in the industry.
The graduate, Nicholas Battigelli, will pursue post-secondary education at the university level in the fall and will return to the metal cutting trade afterward to apply his skill and knowledge to the industry. He says the proper and disciplined learning environment in the manufacturing classrooms at Westgate CVI have contributed to his high level of skill achievement.
"Mr. Mike Lemieux at Westgate CVI is a great teacher. He taught me pretty much everything I know in the trades. He really helps you not only pursue your dream but do it in the correct way. In his shop I learned everything; welding, machining, a whole lot of different things, and everything was taught to be done the right way," said the graduate.
Roger Drcar, student success resource teacher and Specialist High Skills Major program coordinator, says there is a shortage of trades workers across Ontario and that the trades are an excellent post-secondary career choice.
"The funding has made sure that our Specialist High Skills Major program students are leaving secondary school with the skills they need to pursue apprenticeships and employment and move forward in a skilled trades career. It's very important for them to get experience in secondary school so that when they enter into an apprenticeship or a career, they're familiar with the equipment," said Drcar.
Students at Hammarskjold High School, Superior CVI, and Westgate CVI interested in the trades can contact their guidance counsellor to learn more about the Specialist High Skills Major program and how it can benefit them.