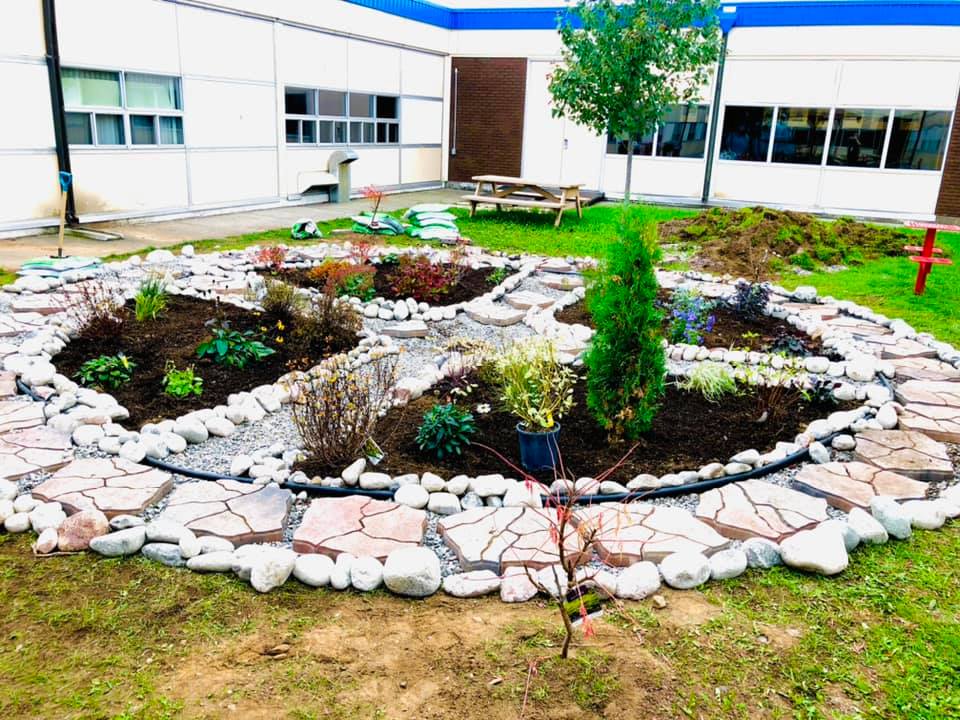 Students Build Medicine Wheel at the Heart of Hammarskjold High School
Oct 18, 2021
There is something to be said about the inter-school collaborations at Lakehead Public Schools. Schools regularly work in partnership with each other to develop leadership and teamwork skills, and this month, Hammarskjold High School Indigenous students enrolled in the KZ Lodge program are developing just that and more. A beautiful, living project – a giant Medicine Wheel garden – is being built in Hammarskjold High School's courtyard through a collaboration with Grade 7 and 8 Indigenous students at Ecole Gron Morgan Public School and Algonquin Avenue Public School.
The Medicine Wheel garden is nearly complete and will boast colour-coordinated quadrants with eye catching hues of whites, yellows, reds, and blacks, and will be home to traditional medicines such as cedar, sage, and sweetgrass.
Eco Superior, esteemed partner of Lakehead Public Schools, is to thank for the opportunity to build this growing addition to Hammarskjold High School as they presented the school with a $5,000 grant to support the land-based education program. Donning work boots and a shovel in hand, Principal of Ecole Gron Morgan Public School Erin Aylward joined the students in the activity. "This is a great opportunity for Grade 7 and 8 students to feel comfortable coming into the learning environment that they may be heading into next," she explained. Ecole Gron Morgan Public School and Algonquin Avenue Public School are feeder schools to Hammarskjold High School and this cooperative type of activity helps to introduce the young Indigenous students to the benefits the KZ Lodge offers.
The KZ Lodge is made possible through a partnership with the Thunder Bay Indigenous Friendship Centre. Tanya Moses, alternative secondary school support worker at the Thunder Bay Indigenous Friendship Centre, explains why this activity is meaningful. "This culturally focused opportunity gifts the youth with reconnecting to Mother Earth through deep roots and creates the sense of belonging, building identity, and respecting and honouring Mother Earth through informed decisions and actions", said Moses.
KZ Lodge program teacher Lisa MacLeod is at the centre of it all, tying culture and curriculum together, as she strongly believes land-based learning helps contribute to the success of every student. A big thank you to all our wonderful teachers, like Mrs. MacLeod, who go above and beyond every day to make students feel welcome.
For more information on the KZ Lodge, visit Kendomang Zhagodenamnon Lodge – Hammarskjold H.S. Thunder Bay, ON (wordpress.com)